Confusion over University of Ulster common room dispute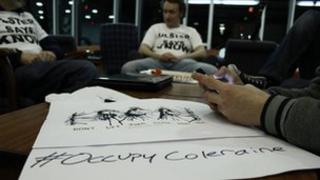 The employment and learning minister has said he is pleased a stand-off over the University of Ulster's senior common room at its Coleraine campus has been resolved through dialogue.
However, staff and students who occupied the building to save it from closure have said the row is not over.
Staff, students and some local people protested against the closure.
They held a sit-in over the Christmas holidays until the water and electricity were switched off.
Dr Farry told the assembly that dialogue had resolved the dispute, but that has been denied by the chairman of the Senior Common Room Committee, the Reverend John Bach.
He said the university has acted in a high-handed manner and some staff stood down from the committee because they felt intimidated and that their jobs and studies may be at risk.
Senior judge Mr Justice Weatherup, a university visitor who has been asked to mediate, has met both the protesters and university management and has urged them to talk and work out a compromise.
The university has said it plans to improve facilities and will keep the Senior Common Room Committee fully informed.
A spokesperson for the university said: "The multi-million pound investment will deliver extensive improvements to hospitality, leisure and teaching facilities at the Coleraine campus.
"The university has discussed these improvements with the visitor and has agreed to meet the Senior Common Room Committee to ensure they remain fully informed of the university's plans."