North Belfast house party machete attacker jailed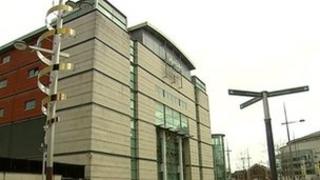 A 19-year-old man who attacked another man with a machete after a mobile phone went missing at a house party in north Belfast, has been jailed.
Caolan Curley, whose address was given as the Ormeau Day Centre in Belfast, produced the weapon from his sleeve before slashing his victim's face.
The injury was so severe that the wounded man was left with exposed bone and muscle.
Curley admitted wounding with intent to cause grievous bodily harm.
He also pleaded guilty to a charge of possession of an offensive weapon.
A prosecutor told Belfast Crown Court that on the evening of 20 April last year, the victim met with a number of friends at a cafe on the city's Royal Avenue.
Curley joined their company and when the cafe closed after midnight, he suggested that the group go back to his house in the New Lodge area for a party.
During the early hours of the next day, the victim and a female friend fell asleep and when they woke up, the woman noticed that her iPhone - which had been charging when she fell asleep - was missing along with other items taken from her handbag.
After asking everyone at the party if they had seen her phone, she left the premises with the victim.
'Severe blow'
He then returned to the flat and met Curley in a communal entrance. The man told Curley he was going to call the police and report the missing phone, at which point Curley produced the machete from his coat.
The prosecutor said Curley struck one "severe blow", resulting in a laceration which ran from ear to cheek.
She told the judge: "It is clear that the defendant was under the influence of drink, if not drink and drugs, at the time."
Police and an ambulance were called to the scene and when he was arrested, Curley - who has previous convictions for violence - made no comment throughout police interviews.
Sentencing Curley to a six-year period in detention - half of which will be served in custody with the remaining three years on licence - the judge said she accepted he had a "sad and unhappy upbringing" but said the unprovoked attack resulted in a "considerable injury" which has left the victim with a "significant scar."