Carrickfergus security alert: Second alert ends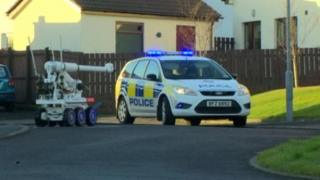 A bomb alert which caused up to 30 people to be moved from their homes in Carrickfergus has ended.
It was the second alert in the town's Broadlands Gardens within 24 hours. Residents whose homes were evacuated were moved to a leisure centre.
Police said that the object at the centre of Monday's alert had been found to be "nothing untoward".
On Sunday, a number of controlled explosions were carried out on two suspicious objects in the street.
Between 20 and 30 residents had to leave their homes during that alert. They were later declared elaborate hoaxes.
Speaking on Monday, resident John Cameron said: "We've got four schools in this area and children are starting to come home from school to this disruption.
"Parents could still be at work and the children are coming home and facing the difficulty of not being able to get into their homes."
Residents said the latest alerts follow other incidents in the Broadlands area at the start of the year, including one in which an oil tank was set on fire.