Banbridge Tesco megastore 'open before end of year'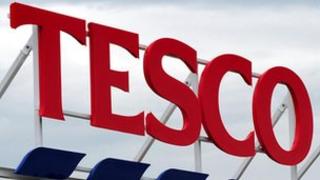 Tesco plans to start work on its much-delayed megastore in Banbridge, County Down by spring 2014.
It should be opened to customers before the end of the year.
Last year, the retailer said it intended to proceed with a large 'Extra' store next to the Outlet centre following a lengthy planning battle.
Meanwhile, the owner of the Outlet in Banbridge has filed a planning application for changes to the private road network within the site.
The owner said changes were needed to provide easier movement between the existing Outlet shops and the new Tesco.
West Register Northern Ireland Property said the plans, which involve adding a roundabout, would provide a "sense of arrival" to the development.
Tesco had originally planned an 80,000 sq ft store but the proposals now involve a 60,000 sq ft facility with the additional 20,000 sq ft rented out to another tenant or tenants - either another retailer or for leisure use.
Two planning applications are currently being considered that need to be approved before Tesco can subdivide the store and allow leisure use.
The company said: "We are excited to be taking forward plans for a new Tesco Extra in Banbridge at Bridgewater Park.
"The store represents a multi-million pound investment in the local area and will create over 250 jobs.
"Providing we get the necessary planning consents, we hope to start work on site in spring and welcome our first customers through the doors by the end of this year."
In 2007, the chain had applied build the largest Tesco on the island of Ireland at the County Down site.
Two planning applications were rejected but in March 2011, the then Environment Minister Edwin Poots approved revised plans for a smaller store.
Six months later, the Northern Ireland Independent Retail Trade Association (NIIRTA) was granted permission to challenge the decision in court.
However, the traders' organisation later withdrew the challenge.