GAA photograph objectors 'ultra sensitive' says tribunal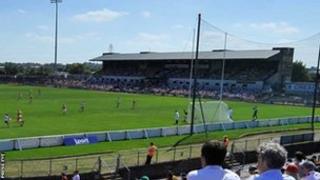 An employment tribunal has described as "ultra sensitive" civil servants who complained when photos from a charity Gaelic football match were published on a government intranet site.
They formed part of an unsuccessful discrimination claim made by an Orangeman who works for the Department of Social Development (DSD).
The tribunal ruling said the photos were published in May or June 2012.
They were taken down following a complaint, but then reinstated.
The matter provoked meetings and "a flurry of e-mails" among senior managers in the DSD.
The tribunal said it could be argued that the reaction of senior management in the DSD was "disproportionate".
However, it added that "the more reasonable explanation is that DSD took Equal Opportunity and Dignity at Work extremely seriously and they wanted to be sure they were doing the right thing."
The photographs showed staff in GAA sportswear taking part in a charity match at Casement Park, to raise money for the Children's Hospice and to mark the 20th anniversary of the inception of the Social Security Agency.
The photograph was accompanied by a commentary which described the GAA stadium at Casement Park as "hallowed ground".
The claimant took exception, not only to the publication of the photograph, but to the description of Casement Park as hallowed ground, particularly in the light of the murder of two soldiers at or near that ground in March 1988.
The tribunal ruled that the complaint had no "substance or merit".
"The intranet photographs and article generated an absolutely minimal number of complaints when they were put up, again when they were taken down and then when they were reinstated," the ruling stated.
"This, in its own, would tend to show that those who raised complaints on the respective occasions were ultra sensitive."
The ruling said it was "surprising, to say the least" that any reasonable person could have considered pictures from the event were "a violation of his dignity, or thought that it created an intimidating, hostile or offensive workplace environment".
The tribunal said that "as far as consistency is concerned", there had been a previous, and "innocuous" display of staff wearing Glentoran regalia on the website.
The claimant said he would have complained about that had he known of it, but the tribunal said: "We have our doubts about that."
The tribunal also found that the reference to "hallowed ground" is something that had no political, sectarian, or religious significance.
"The term 'hallowed ground' is frequently used in relation to sports grounds and stadia - for football, rugby, cricket, the GAA, or whatever," the ruling said.
'We found the claimant's attempt to link the phrase to the murder of two soldiers by terrorists to be somewhat distasteful.'