Carrickfergus security alert declared elaborate hoax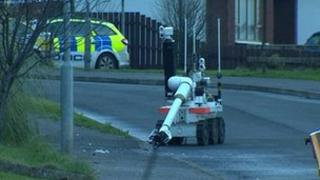 A security alert in Carrickfergus has ended after a number of controlled explosions were carried out on two suspicious objects.
Army bomb disposal experts were called to examine the objects at Broadlands Gardens on Sunday afternoon.
The objects were declared elaborate hoaxes.
Between 20 and 30 residents had to leave their homes in the County Antrim town because of the security alert.
Police said the residents were taken to a nearby leisure centre.
One resident told the BBC it was normally a very quiet area.
"I'm pretty devastated for everybody living here, because they're all affected," she said.
"The people who were targeted, they're badly affected too.
"It's unbelievable. This is a quiet area, we've lived here for nearly 20 years now and nothing like this has ever happened before."
Residents were allowed to return home shortly before 21:00 GMT on Sunday night.