Haass proposals: Government may intervene says Eamon Gilmore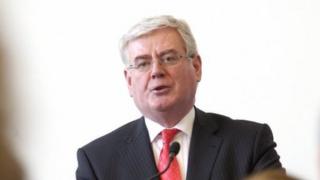 Ireland's foreign minister has said, if necessary, there will be joint intervention by the Irish and British governments to get the parties to agree a way forward on the Haass proposals.
The Haass talks focussed on the issues of flags, parades and the past.
Eamon Gilmore told the Sunday Politics programme there had to be progress on the issues.
In a statement, the Northern Ireland Office said there can be "no question of imposing solutions from outside".
Mr Gilmore, who is also Ireland's deputy prime minister (tánaiste), said: "The two governments are determined that we should not allow these issues to drift," Mr Gilmore said.
"I don't think there is a very long period of time within which this can continue on. There is an urgency about getting these issues resolved.
"I think if there is an intervention, I think it will be an intervention by both governments together.
"We are agreed that this is something that both governments will work together on.
"If necessary we will have to do that, but I hope that it will be possible that the political parties in Northern Ireland will be able to reach agreement among themselves.
"I think that that's appropriate, because these are issues that have to be resolved in Northern Ireland."
An NIO spokeswoman said: "The UK government will continue to encourage the NI political parties to find an agreed way forward on the issues considered in the Haass process.
"The Irish government has indicated that it too wants to support efforts to secure cross party agreement."
"This is a process initiated by the NI political parties and there can be no question of imposing a set of solutions from outside which doesn't have the backing of Northern Ireland's political leadership."
Responding to Mr Gilmore's comments on Sunday Politics, Ulster Unionist leader Mike Nesbitt described them as "not particularly helpful".
Internal affairs
"Every time I speak to him, including a recent telephone call, he acknowledges and accepts that flags and parades are effectively strand one issues under the terms of the Belfast Good Friday Agreement," he said.
"They're internal to the affairs of Northern Ireland and the Republic has no role to play and it's not useful therefore for Eamon Gilmore to make that sort of a statement.
"The idea that the Republic has a role to play in terms of flags and parades is ultra vires because it's strand one and it's internal and it's up to the five parties to sort this out."
Mr Nesbitt acknowledged that the Irish government did have a wider role to play.
"The Irish Republic has a lot of answers to bring forward in terms of dealing with the past, in terms of a porous border, in terms of collusion with the IRA and all the rest," he added.
The talks, chaired by US diplomat Dr Richard Haass and Harvard Prof Meghan O'Sullivan, broke up without a deal on New Year's Eve.
Sinn Féin and the SDLP endorsed the proposals, but the DUP, UUP and Alliance have, so far, rejected elements of the Haass blueprint.
Tuesday saw the first meeting of Northern Ireland's five main parties since the end of the negotiations.
Afterwards, Sinn Féin's Martin McGuinness accused unionists of "dancing to the tune of extremists" in not agreeing to the proposals.
In response, DUP leader Peter Robinson accused Mr McGuinness of talking like he was "a dictator".
More of the Eamon Gilmore interview can be seen on Sunday Politics on BBC 1 at 11:35 GMT.