Britain's Got Talent in Belfast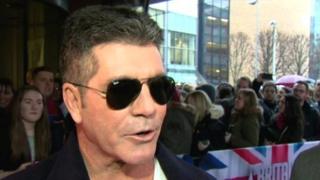 The red carpet was rolled out in Belfast on Saturday - but not for royalty. The judges from Britain's Got Talent have been in town to watch hundreds of acts.
It is the first time the show has held auditions in Northern Ireland
Those taking part in auditions were hoping they might win the competition and the chance to take part in the Royal Variety Performance.
The judges are convinced there is talent to be found.
"We're going to find someone good," Simon Cowell said.
"I always say on this show, number one, I have no idea who's going to come in, or what's going to come in
"You've just got to find one good person or one good thing.
"I don't think we got enough animals last year."
Actress Amanda Holden said she did not know quite what to expect.
"I'm thinking, obviously because we're in Ireland, that we might get a lot of Irish dancers," she said.
"I'm hoping classical music maybe. I really don't know what to expect, but I'm expecting the craic."