Protest outside gay Ballynahinch therapy event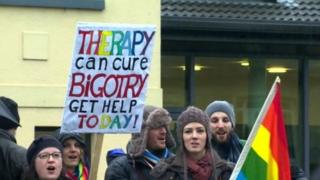 Campaigners have protested outside a conference in Ballynahinch held by a group that provides therapy for people who no longer want to be homosexual.
The Core Issues Trust hosted the event, called Setting Love In Order.
About 40 protesters demonstrated outside Ballynahinch Baptist Church in the County Down town.
But the organiser of the conference, Dr Mike Davidson said all they wanted was a proper debate over the issue of homosexuality.
"We're not busy with gay cure, we're not busy with conversion therapy. Conversion therapy conveys the impression of a light switch - 1,2,3 and you're done, off you go and live your life," he said.
"Nothing could be further from the truth. What we're doing in the conference is arguing for the freedom and the right for clients to approach professional psychotherapists and counsellors."
However, John O'Doherty of the Rainbow Project said: "We're here today in opposition to this quack therapy that continues to do huge amounts of harm to our community.
"We're here to send a clear message to those people who are struggling with their sexual orientation that there's a strong community to support them and meet the needs that they have.
"You cannot change your sexual orientation whether through therapy, through prayer or under any other means."
The Baptist Church issued a statement explaining why it allowed the meeting to take place on their premises.
It said it supported freedom of speech. It also said it was against homophobia.