Orange Order angry over Martin McGuinness UVF comments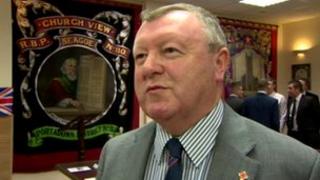 A leading Orangeman has hit out at Martin McGuinness over the deputy first minister's recent comments about the order in Belfast.
Mr McGuinness said unionist leaders told him the Orange Order, the UVF and PUP were acting as "one and the same".
Orange grand secretary Drew Nelson accused Mr McGuinness of trying to demonise the organisation by linking it to the loyalist paramilitary group.
Mr Nelson said Mr McGuinness had made a number of such comments recently.
"The republican movement declared a ceasefire against the British administration about 10 or 11 years ago," he said.
"But they don't seem to have declared a ceasefire on the Orange institution.
"We're still having Orange halls burnt on a regular basis, we're still having our parades objected to and now we've got Martin McGuinness, several times over the last few weeks, demonising us, vilifying us, saying that we're one in the same as the UVF, which is patent nonsense."
On Friday, Northern Ireland First Minister Peter Robinson launched a scathing attack on Mr McGuinness saying he had "an exaggerated view" of his role in the Haass talks process.
Mr McGuinness talked as if he was "a dictator" and showed a "visceral hatred" of the Orange Order, he said.
The Haass talks, which focussed on the contentious issues of flags, parades and the past, broke up without a deal on New Year's Eve, and Tuesday saw the first meeting of Northern Ireland's five main parties since the end of the negotiations.
After the meeting Mr McGuinness said: "I have watched over the course of the last 18 months unionist parties dancing to the tune of extremists within their own community and that has to end.
"I say that because I believe the influence of these people has impacted on the Haass negotiations and the Haass outcome."