Permission quashed for car park near Belfast International Airport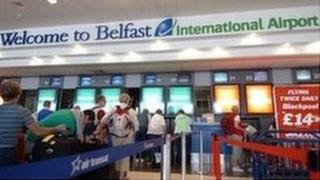 The Department of Environment (DoE) has won a legal challenge to the granting of planning permission for a car park near Belfast International Airport.
A High Court judge quashed the decision to give the green light for the facility in County Antrim.
He backed claims that separate planning statements were not properly balanced.
Mr Justice Treacy's ruling may now impact on operation of part of the Easipark site at Crooked Stone Road, Aldergrove.
The facility provides parking and a minibus shuttle service for travellers using the airport.
Enforcement proceedings had been issued by the department over the alleged unauthorised use of land for the business.
But last January, a Planning Appeals Commission (PAC) upheld a challenge by operator Alan Hyde to the DoE's move.
Countryside
The PAC held that the development breached a planning policy statement dealing with access, movement and parking.
However, it allowed the appeal after further ruling that the scheme complied with another statement, which deals with impact on the countryside.
Those determinations led to the department issuing judicial review proceedings against the PAC.
In a legal challenge, backed by Belfast International Airport, counsel for the DoE claimed there had been a failure to carry out a balancing exercise between the planning policy statements.
Lawyers for the PAC and Mr Hyde both argued this was undertaken.
But Mr Justice Treacy found: "As to the question of weighing I am not satisfied that any such exercise was carried out."
He held that the PAC erroneously concluded planning permission must be granted because the issues in one of the policy statements were a self-contained policy.
Policy
"It seems to me that ordinarily one must expect the decision maker to have correctly identified the relevant policy(s) and the relationship between them, correctly interpreted and applied them.
"That, for the reasons given, did not apply in the present case."
He pointed out that the development had failed to meet the test under one of the planning statements, by not demonstrating a need for it in a rural location close to the airport.
The judge said this appears to have been regarded as "immaterial" to the PAC decision.
He confirmed: "I cannot be satisfied that the decision might not have been different if the PAC had not made the error it did and accordingly I quash the decision."