On the front line as charity FASA puts lives back on track
Substance abuse, self-harm, suicide, and poor mental health are no respecters of age, religion, class or gender.
And that message is brought home powerfully in a new three-part BBC Northern Ireland series that follows the work of charity FASA (Forum for Action on Substance Abuse).
Filmed over the course of a year, Watch Over Me follows the front-line teams from FASA as they tackle the human fall-out from those problems.
The series reveals first hand the challenges of helping people get their lives back on track.
FASA is one of those organisations people tend to know little or nothing about until they need its help, or until they hear of someone who has needed its help.
That is how it happened with me. I was unaware of FASA's existence until a friend who was in crisis somehow got hold of their number and rang in sheer desperation.
Vulnerable clients
When I heard about the work FASA does, I was determined to make a documentary about it because I know from personal experience the people who work there save lives.
Myself and a small production team were given permission by FASA's management to embed ourselves in their offices in Belfast, Bangor and Ballywalter in County Down.
For weeks we observed the frontline teams in action to try and understand the nature of their work on a day-to-day basis and to figure out how we could capture that work on camera without compromising either the workers or the clients, many of whom were very vulnerable.
Over time, and as we built up trust, people started to come forward who were willing to share their stories.
Some participants said they wanted them to be heard as a warning to others about the perils of falling victim to alcohol and drug dependency.
Others said they wanted people to know they are living proof there is always someone to reach out to for help, even at the darkest moments in life.
FASA works with clients for as long as it takes to provide a lifeline to those who have fallen through the cracks and are in danger of losing their lives.
Life-changing events
We were in a unique position to document that process as it unfolded, through the good times and the bad.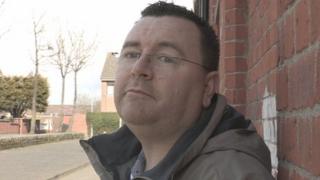 We felt privileged to be able to laugh and cry alongside the participants as we bore witness to their journeys of pain and understanding, their relapses and breakthroughs, on the way to recovery.
We also learned quickly that people are most in danger of descending into crisis after life-changing events like bereavement, divorce, abuse, bankruptcy or debt.
As one FASA worker says on screen: "Give me anything that life throws at you that's incredibly difficult, and I'll give you somebody trying to take away that pain with drugs, alcohol, or prescription medication. Or all of them in some cases."
This series is not all doom and gloom though. There is no doubt it is a searingly honest portrait of the challenges involved with helping people getting their lives back on track.
But there are many moments of hope and inspiration throughout.
If the series helps even one person in crisis seek help, Watch Over Me will have achieved its goal.
Watch Over Me begins on Tuesday 21 January on BBC One Northern Ireland at 22.35 GMT