Ballycastle: Masked gunman shoots 74-year-old man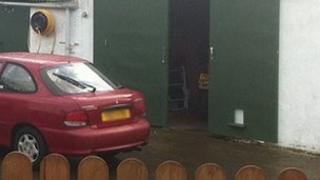 A 74-year-old man has been shot in County Antrim.
He was working in a shed at the Islandboy Road, Ballycastle, at 20:45 GMT on Thursday when a masked man approached.
He fired a shot and the elderly man was hit in the chest. He was taken to hospital where he is in a stable condition.
Police are treating the attack as attempted murder. They have appealed for information.
BBC Northern Ireland's North-East reporter David Maxwell said there was a great deal of shock in the community.
He said politicians in the area said the shooting had "caused alarm".
"Within the last hour forensic teams have arrived. They are beginning the work in and around the shed to gather evidence," he said.