Bail refused to UVF murder accused Mark Campbell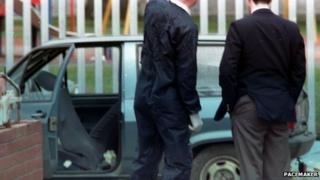 A man charged with a UVF double murder in May 1994 has been refused bail.
Mark Campbell, 42, of Canning Place in north Belfast, is accused of killing Eamon Fox and Gary Convie.
The Catholic builders were eating lunch in a car at a building site in North Queen Street when they were shot dead. Another man was injured.
Mr Campbell, a father of two, is also charged with attempted murder and possession of a firearm with intent to endanger life.
During the bail hearing at Belfast Magistrates Court, an investigating detective said police were objecting to bail on five grounds:
The defendant was a flight risk having previously lived in Scotland
The offences were very serious and carried mandatory life sentences if convicted
There was a risk of interference with witnesses
Campbell had a propensity for violence
There was a likelihood he would commit further offences due to his links with loyalist paramilitaries.
The officer added that he had been interviewed a total of 19 times, during which he had repeatedly stated "no comment".
A defence solicitor argued there could be no interference with witnesses as there was only one witness in the case along with other statements from serving or former members of the security forces unknown to the defendant.
He said this "propensity to violence" was solely based on these alleged offences and there was no flight risk as his sons, partner and previous partners lived in Northern Ireland and had raised £2,000 to be lodged in court as a surety.
The solicitor told the court Mr Campbell was denying the charges, made no admissions during questioning, the evidence against him was limited and that he was entitled to the presumption of innocence.
He added that the case could take some time to get to court and ongoing discussions about these types of historical cases should be taken into consideration.
Mr Campbell, if convicted, could serve no more than two years in prison under the Good Friday Agreement, he added.
The judge said the issue of how these "serious matters" will be dealt with under the Good Friday Agreement or other legislation "is no concern to this court".
He denied bail stating that flight and interference with witnesses was "too high a risk". He is to appear in court again on 13 February.
Eamon Fox and Gary Convie were from County Armagh. Mr Fox, who was 44, had six children, while Mr Convie was 24 and a father of one.