US Vice-President Joe Biden called Peter Robinson over Haass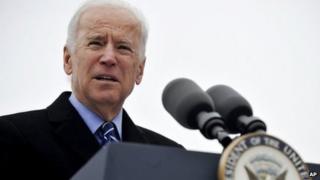 Peter Robinson took phone calls from both the US vice-president and the UK prime minister in the final days of the Haass talks, it is understood.
The talks focussed on the contentious issues of flags, parades and the past.
Vice-President Joe Biden rang the first minister on 29 December - Mr Robinson's 65th birthday - two days before the talks broke without a deal.
It is believed Mr Biden wished the DUP leader a "happy birthday" then pressed him to reach an agreement.
A government source said Prime Minister David Cameron was also keen that the negotiations should end positively.
When Richard Haass was appointed to chair talks in July last year, the vice-president pledged the US administration's full support for what he described as Dr Haass's "vital effort".
The current US administration no longer has a special envoy to Northern Ireland, but Vice-President Biden has been identified as its "point person".
During the final days of the Haass talks informed sources told the BBC both President Obama and Vice President Biden had been getting regular briefings on the state of the negotiations.