Man recalls childhood abuse in Rubane House, Kircubbin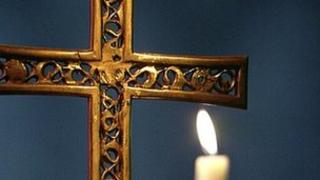 A man who alleges he was abused in a County Down children's home almost 60 years ago has welcomed an apology but said it does not go far enough.
Conor Ryan said he was physically and sexually abused by staff at Rubane House in Kircubbin in the late 1950s.
Mr Ryan said his younger brother was also abused at Rubane House, but did not confide this in him until shortly before his death three years ago.
The home was run by a Catholic Church order - the De La Salle Brothers.
Lifelong scars
Mr Ryan told BBC Good Morning Ulster that at one stage he was hospitalised as a result of the order's abuse.
"I ended up in hospital in Newtownards, I had my head split open with a hurley stick with metal bands on it."
He also described how one of the De La Salle brothers had split the ends of a cane "so he would get more effect when he was hitting me".
"I still have a scar on my hand and a scar on me knee," Mr Ryan said.
"It was just brutal in there. It was physical and sexual."
He recalled how one brother repeatedly hit the boys on the ankles with a hurley stick while they were in the showers and grabbed them indecently.
Mr Ryan was sent to live in Rubane House in 1957, when he was aged about 11, following the death of his father.
'Fear'
He said his mother, who had just given birth to his younger brother, was "struggling" and had to put him into care.
His younger brother was sent to the same home a year later, but Mr Ryan said it was a further year before he knew this, as staff had kept the pair apart.
"I didn't know he was there because I was put down on a farm," he said.
"They used to put boys down there who wet the bed. I think I was wetting myself with fear because of the beatings we got.
"I only saw my brother when he was getting punished. He died three years ago and he told me, before he died, that he'd been abused seven times."
Mr Ryan said when he was moved to a children's home in England in the early 1960s, he was found to be malnourished because of his treatment at Rubane House.
He said many of the boys who lived at the home suffered bowel problems in later life.
Justice
The pensioner became involved in the campaign for victims of abuse in residential homes after watching a programme on Rubane House a number of years ago.
Mr Ryan said he feels he now owes it to his late brother to get justice.
On Tuesday, De La Salle was one of two Catholic orders that said sorry for the abuse children suffered in their children's homes in Northern Ireland.
The Sisters of Nazareth and the De La Salle brothers issued apologies on the second day of a major abuse inquiry's public hearings.
The Historical Institutional Abuse Inquiry is the biggest public inquiry into child abuse ever to take place in the UK.
It is investigating abuse claims in 13 children's home and juvenile justice centres, from 1922 to 1995, including Rubane House.
Tuesday also marked Mr Ryan's 69th birthday and he described the De La Salle apology as "the best birthday present I ever got".
"But I still don't feel they've gone far enough with the apologies.
"It's a start, but they have a way to go yet," he said.