Northern Ireland banking inquiry hears lending 'a demand problem'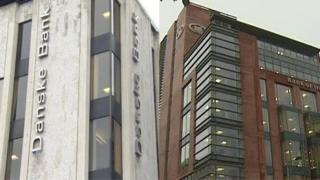 Any problems with reduced levels of business lending in Northern Ireland are due to a lack of demand from customers, senior bankers have said.
Des Crowley, chief executive of Bank of Ireland UK, said Northern Ireland had a competitive banking market, and supply of finance was not an issue.
Danske's deputy chief executive Kevin Kingston said his bank had grown business lending by 50% in 2013.
The executives were giving evidence to the Northern Ireland Affairs Committee.
The banking inquiry is looking at the way banks in Northern Ireland are run, how they provide finance to small and medium sized businesses and access to banking in rural communities.
'Painful'
Danske and Bank of Ireland are the first of the major banks to give evidence.
Mr Crowley said Bank of Ireland had worked "to repair our franchise in Northern Ireland" after a period which had been "painful" for staff and some customers.
He said the bank had the capital to lend, and pointed to a recent Intertrade Ireland report that suggested demand for finance was the issue, rather than supply.
The bank's head of business banking in Northern Ireland, Ian Sheppard, said within the last six months he had seen an uplift in lending to companies with expansion plans, particularly export-focused manufacturers.
That was echoed by Mr Kingston, who said Danske had seen a "record level" of business lending in 2013.
He said that out of £450m in lending, about £200m had gone to customers who had moved to Danske from another bank.
Danske's chief executive, Gerry Mallon, said the rates charged for business lending in Northern Ireland were comparable with the rest of the UK.
Mr Mallon said that details showing total bank lending to the different sectors of the Northern Ireland economy should be published by the British Bankers Association with the next two months.
Getting access to that information has been an objective of Stormont Finance Minister Simon Hamilton, who believes it will give greater insights into the challenges facing different parts of the economy.
Executives from Ulster Bank and First Trust are due to give evidence later this month.