Donagh sex abuse: John McDermott sentenced over ninth victim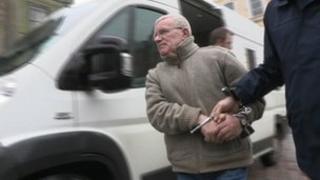 A man who is already serving 10 years over his abuse of eight children will not serve any extra jail time for his admitted abuse of a ninth victim.
The judge told John Michael McDermott, from Moorlough Road, Donagh, County Fermanagh, he was "one of the worst" sex offenders in Northern Ireland.
He was one of four brothers responsible for what another judge had described as a "tidal wave of abuse" in the village.
He was sentenced to a further 12 months but will serve the term concurrently.
On Wednesday, the judge at Dungannon Crown Court told the 64-year-old: "If you are not the worst serial sex offender in this jurisdiction, you are certainly one of the worst".
However, she ruled that given the "principal of totality" she would not add to his sentence.
Indecent assault
Last December, McDermott had admitted four charges against his ninth victim.
He pleaded guilty to indecently assaulting the teenage boy, between April 1997 and 2001, when the boy was aged 13 to 17.
For each of the offences, McDermott was given four consecutive sentences of three months, but he will service the extra year concurrent to the 10-year jail term he is presently serving.
Referring back to an earlier court hearing involving the McDermott brothers, the judge said that they had "wreaked havoc" on the lives of children, some of whom blamed themselves for what happened, while in fact that blame fell squarely at the door of the abuser.
This is the fifth time in four years that McDermott has been brought before the courts for either indecent assault or gross indecency.
The Dungannon Crown Court judge said the latest victim contacted police last April after seeing a BBC programme on the brothers' abuse.
Unfit
John McDermott was the only one of the four brothers to have stood trial for child sex abuse.
Two other brothers, 62-year-old James McDermott and 54-year-old Owen McDermott, were due to stand trial with him in 2010, charged with sex offences committed during the 1970s and 1980s.
However, the pair were deemed unfit to stand trail because of their mental disability.
A fourth brother, 62-year-old Peter Paul McDermott, took his own life on the day after he went on trial for his role in the abuse.