Titanic iceberg simulator in Chinese theme park 'in bad taste'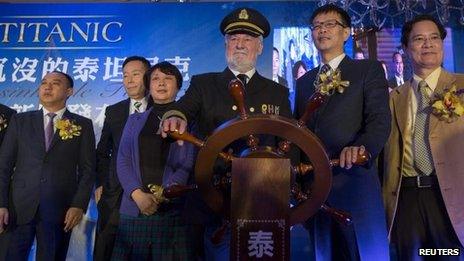 Plans to build a full-scale Titanic replica with an iceberg simulation in a Chinese theme park are in bad taste, a Northern Ireland politician has said.
The attraction in Sichuan province, about 930 miles from the sea, will let hundreds of people at a time experience the shipwreck.
The Titanic was built in east Belfast.
Former Lord Mayor of Belfast Jim Rodgers said he had asked the Chinese firm behind the 1bn yuan (£100.7m) project to reconsider their plans.
He said that while it was a "great idea" to build the Titanic replica at the Romandisea Seven Star International Cultural Tourism Resort, "to have a simulation of an iceberg collision is going a step too far".
Mr Rodgers said his grandfather had worked on building the Titanic at the Harland and Wolff shipyard, and he felt the iceberg simulator would offend "many of those who lost loved ones" when the ship sank on its maiden voyage in April 1912.
"I don't think it should be done in this fashion," he said.
"The ship was perfect when it left these shores in Belfast, Northern Ireland, and unfortunately it struck an iceberg, but for people to try and make money out of that is disgraceful and shameful."
The vessel, the largest luxury ship in its time, struck an iceberg on its maiden voyage from Southampton to New York. It went down on 15 April 1912, leaving more than 1,500 people dead.
Su Shaojun, chief executive of the Seven Star Energy Investment Group that funded the project, said "the universal love and sense of responsibility shown during the Titanic shipwreck represent the spiritual richness of human civilisation".
"When the ship hits the iceberg, it will shake, it will tumble," he said.
"We will let people experience water coming in by using sound and light effects ... They will think, 'The water will drown me, I must escape with my life'."
The actor Bernard Hill, who played Captain Edward Smith in the 1997 movie Titanic, attended the launch of the project in Hong Kong and rejected suggestions that it was inappropriate.
"It's been approached in a very delicate and a very sensitive way and they're very aware of the extent of the disaster in 1912," he said.
"I don't think it will belittle that disaster."
Work is also under way in China on a sea-worthy Titanic replica, commissioned by Australian mining magnate Clive Palmer. It is expected to be ready to set sail in 2016.
Related Internet Links
The BBC is not responsible for the content of external sites.