Crown Bar in Belfast obtains new drinks licence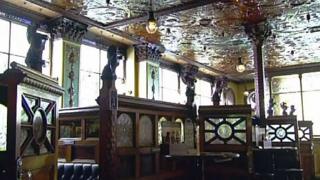 Belfast's famous Crown Bar has obtained a new drinks licence at a hearing on Wednesday afternoon, according to the Pubs of Ulster organisation.
A legal hearing was brought forward from Friday and the pub is now able to reopen. It will do so on Thursday.
It closed its doors last Friday after an "administrative oversight" saw its old licence expire.
There were no objections to the granting of the new licence.
A spokesperson for the Crown said: "We are absolutely delighted that the licence has been renewed and that the Crown is open for business again.
"Our investigation into the circumstances surrounding the licence expiration is still ongoing, but we have already taken steps to ensure this does not happen again."
Colin Neill of Pubs of Ulster said: "We welcome this. We hope the other bars which had a similar problem get the same expedient treatment."