Lisbellaw, Fermanagh, man fired shotgun over affair fear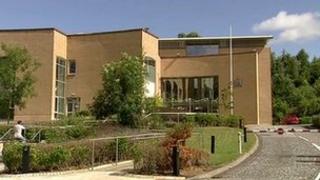 A man who fired off both barrels of a shotgun to prevent his wife being told about an affair with a family friend has been given a suspended jail term.
Neill William Dixon, 28, of Whinnigan Glebe, Lisbellaw, Fermanagh admitted possessing a firearm with intent to cause fear of violence or injury.
A judge told the father of one that, but for exceptional circumstances, he would have been jailed for a year,
Dixon fired his legally held shotgun last February, to scare off a friend.
A judge said the exceptional circumstances in Dixon's case included his guilty plea, his "deep shame and regret" and the fact at the time he was "under considerable strain", although she added this was "very largely" of Dixon's own making, as he had "chosen to engage in a relationship with another man's wife".
Earlier the judge said Dixon's desire was to keep his extra-marital affair from his own wife in an effort to "perserve his own marriage and family life".
His behaviour, she added, was "utterly disgractful", having acted as he did "out of self-interest".
The judge also said Dixon had intended only to frighten his victim, but not to harm him.
She said while a 12-month sentence was justified; "In all of the circumstances, and not without some hesitation, I think it would be appropriate to suspended that sentence".
The judge added, that, while she had no power concerning the firearms licence Dixon has held for the past nine years, she would recommend that he should never again should he be permitted to have one.
Text messages
A prosecution lawyer, reading from a set of 'agreed facts', told the court Dixon's victim, a family friend, had gone to his home "with regards to inappropriate text messages which had been exchanged between the defendant and the injured party's wife".
Having failed to make contact with him, after being wrongly told Dixon was at his parents' home, adjacent to his own, he parked at the entrance of their laneway, and tried calling Dixon again, but to no avail.
"He was sat there for a couple of minutes," she said, "when he noticed the outside light at the defendant's property coming on. He could see two shadows walking past the front of the defendant's home".
The lawyer said the man lost sight of them, but on turning his jeep around, and seeing both Dixon and his brother in the headlights, he put the vehicle in gear, driving slowly towards them.
"He stated the defendant was walking with both arms down by his side as if he was carrying something behind him. He then saw the defendant's arms come up in the air as high as his stomach," she said.
"It looked like he was aiming something in the air. He couldn't make out what it was, but heard a crack and realised it was the sound of a gun going off."
The lawyer added that after driving off at speed, "he heard another loud bang".
A defence lawyer said that since the incident, Dixon, who attended court with his wife and father, "had endeavoured to repair things" between the former friends, so that they could "get on with their lives".
He said he had been instructed "from the outset" to apologise not only to the court, but in particular to the injured party, and to express Dixon's "deep shame and regret".