Weapons deal boost for east Belfast company Thales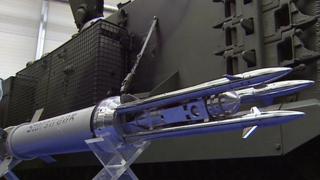 The prime minister has said a deal worth more than £100m to supply military equipment to Indonesia is great news for 500 workers in east Belfast.
The contract is for missiles and defence systems made by Thales UK at its factory on Alanbrooke Road.
The company said Prime Minister David Cameron helped secure the order.
Mr Cameron said: "This deal is great news. It will help secure highly-skilled jobs in Northern Ireland."
The deal with the Indonesian ministry of defence includes the supply of Starstreak missiles and radar systems.
Thales has done business in the country before.
"I would like to express my gratitude to the prime minister for his personal support and the support of the government," Thales UK's CEO, Victor Chavez, said.
"It makes a huge difference to the industry and our customers."
The Northern Ireland arm of Thales was originally Shorts Missile Defence until it was bought over by the French multi-national in 2001.
David Beattie, vice president for advanced weapons systems at Thales, said he did not expect the company would employ extra staff as a direct result of the multi-million pound deal.
"We've been working on this programme for quite some time," he said.
"We'd been expecting it to come in and it aligns with the level of employment that we have today, but if we do a good job, I would hope we can get some follow-on orders to this that will come from the Middle East and Far Eastern markets."
Enterprise Minister Arlene Foster said Thales had a "global reputation" and had been working hard to secure new export business.
"This valuable contract represents a break through in air defence sales for Thales UK and will help sustain jobs at the firm's sites in Northern Ireland," she said.
"Thales operates at the cutting edge of engineering and has benefited from Invest Northern Ireland support over the years to develop and extend its design capabilities, manufacturing skills and meet the needs of international customers."
Last year, the company cut about 50 staff from its payroll in Belfast and another, smaller facility in Crossgar, County Down.
It blamed the move on cutbacks in global defence spending, but came at a time when it had just signed a deal to sell missiles to the army in Thailand.