Steven Mitchell inquest: Grandfather tells of drowning tragedy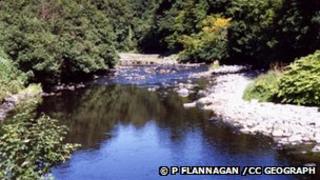 A man has told an inquest how he struggled in vain to rescue his drowning grandson as a family day out at a country park ended in tragedy.
Steven Mitchell died last July after getting into difficulties in the River Roe in Limavady, County Londonderry.
The 15-year-old had waded out into deeper waters to retrieve a football.
His grandfather, Joseph Milligan, managed to grab Steven's arm, but said: "I just couldn't keep him up, he slipped away from me."
He told the hearing in Belfast that Steven was not a good swimmer and panicked when he realised he had got out of his depth.
Steven, from Doagh in County Antrim, was the eldest of six grandchildren who had accompanied Mr Milligan, his son and two daughters to Roe Valley Country Park on a hot summer day.
All the children went into the river to play and Steven, who was wearing a T-shirt, shorts and trainers, waded out the furthest.
"He just went out too far and he couldn't find the bottom and he panicked," Mr Milligan told coroner Jim Kitson.
Difficulties
The schoolboy's uncle, Joseph Milligan Jr, was the first to swim out to try to rescue him, but when he reached the spot where the teenager had disappeared he could not find him.
Mr Milligan then got into difficulties himself and was forced to return to the riverbank.
Steven's grandfather, who has a weakness in one arm due to arthritis, then entered the water in a bid to reach Steven.
"I did get hold of his arm at one point but I wasn't strong enough to hold him up with one arm," he said.
"Steven was driving me down as well, as my lungs were filling with water."
A passer-by, David Seed, then went into the river and found the schoolboy below the surface.
"I grabbed hold of the boy and dragged him to shore," he said.
The teenager's uncle broke down as the coroner praised him for doing his best to save his nephew.
"I just wish I could have done more," he said.
Paramedics took around 30 minutes to reach the unconscious teenager after receiving the emergency call.
Helicopters scrambled
Emergency medical technician Manus McCaul told the court that having taken 15 minutes to drive to the park they arrived to be informed that Steven was 15 minutes walk from the car park.
He said he and his colleague tried to drive to the scene but within 500 yards they reached a fence that prevented them going any further.
Mr McCaul told the court they had to make the rest of the journey on foot, carrying resuscitation equipment.
Two helicopters were scrambled - one from the Police Service of Northern Ireland and the other from the Irish Coastguard in Sligo. Only the smaller police helicopter was able to land at the site and it took Steven to Altnagelvin Hospital in Londonderry.
Senior paramedic John McClintock said a weak pulse was detected just before Steven was put in the helicopter.
"Unfortunately as we lifted off the field the pulse ceased," he told the court.
Resuscitation continued at Altnagelvin but efforts to save the teenager were unsuccessful.
Officials from Roe Valley park said that signs warning of deep water and a fast flowing river were within the park, and health and safety measures complied with current standards.
Confirming the cause of death as drowning, Mr Kitson commended the efforts of those who tried to save the boy.
"This is a quite horrific tragedy," he said, expressing his condolences to the family.