Minister orders review of road gritting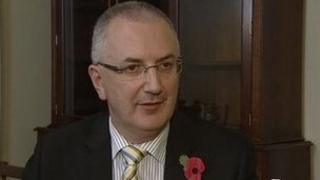 Northern Ireland's regional development minister has ordered a review of decisions over road gritting.
Danny Kennedy made his comments in the assembly on Monday.
The police revealed that they had attended 42 collisions in the space of three hours between 06:00 GMT and 09:00 GMT.
Ambulance crews were called to 15 of those incidents. On average, they deal with 12 or 13 a day.
Mr Kennedy acknowledged "the clear need for gritting in the southern division this morning".
"This is an issue of public safety and not resources, and where there is any doubt in any decision to grit or not to grit I expect decision makers to err on the side of caution and that means 'when in doubt, grit'".
A Roads Service spokesman said that the weather forecast on Sunday evening showed that in southern division - which takes in the areas around Craigavon, Banbridge, Armagh, Downpatrick, Newry, and Kilkeel, the rain would clear and road temperatures would generally remain above freezing throughout the night.
He said that at about 03:00 GMT on Monday there was "no evidence of frost and temperatures were well above freezing".
But he said an "un-forecast dip" in temperatures occurred at about 05:00 GMT to 06:00 GMT in areas of the southern division, that "caused road temperatures to fall below freezing, resulting in the formation of frost and ice on some roads".
"This was compounded by isolated showers which occurred across the area, falling on road surfaces which were close to freezing," he said.
"On becoming aware of the change in road conditions Roads Service carried out gritting operations in southern division from 07:00am onwards, on the parts of the salted network which had been affected."