Belfast harbour plan to reclaim 60 acres from lough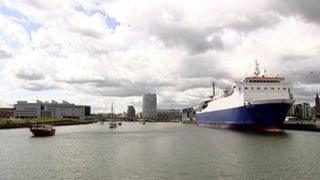 Belfast Harbour Commission has lodged a planning application to reclaim 60 acres of land from Belfast Lough using six million tonnes of rock.
If approved, it hopes work will begin soon on the three-year project.
The quarry industry said the expansion "is a real boost as it emerges from the worst recession in memory".
The area to be reclaimed is at "the seaward end" of Victoria Terminal Four, from where Stena Line operates ferries to Scotland.
Planning documents state that reclaiming the land is "a core requirement" for the growth of the harbour.
The application does not reveal how the land might be used.
The project is said to be vital as all existing sites within the harbour are either developed or already identified for specific uses in the future.
Sixty acres is about one third of the size of Titanic Quarter.
A harbour spokesman said: "The objective is to support growth in the local economy over the next 20 to 30 years by enhancing port capacity."
Planning documents said the rock would be delivered by road from local quarries and moved into place by bulldozers and excavators.
The Quarry Products Association of Northern Ireland said the total volume of rock and aggregates needed is one third of the annual local output.
"The project, if approved, will help sustain approximately 250 jobs in the materials supply chain alone," its regional director Gordon Best said.