Review of NI training and skills announced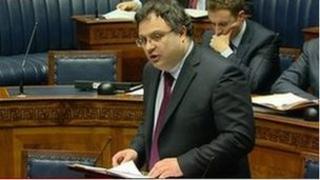 Plans to overhaul apprenticeships in Northern Ireland have been announced by Employment Minister Stephen Farry.
He wants training to better match sectors of the economy that are growing.
Mr Farry told the assembly he aims to create "a pipeline of appropriately skilled people".
He has put forward 32 new proposals, including a range of incentives for employers.
A consultation process is now under way, with a final policy promised in the summer.
Mr Farry said: "This review has the potential to radically reform and improve training and skills and is a top priority for my department."
The employers' organisation, the CBI, welcomed the shake-up.
It said it is vital "skills gaps" are addressed in areas such as IT, agri-foods and engineering.
The National Union of Students-Union of Students in Ireland (NUS-USI) has welcomed a number of the proposals.
NUS-USI president Rebecca Hall said: "I am pleased that the minister has emphasised the need for apprenticeships to be very highly valued.
"This is an extremely interesting announcement and I would like to see it pave the way for more apprenticeship places to be made available across even more sectors of the economy here."