Four jailed over handgun find in car in Omagh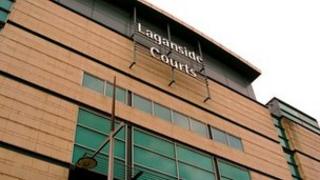 Four men who were in a car in a which a gun was found have been jailed.
Mark McGuigan was sentenced to 12 years, Daniel John Turnbull to nine years, Martin McLoone to eight years and Darryn Patrick McCallion to seven years.
Each will serve half the term in custody and the rest on licence.
They were arrested when police found a handgun in their car outside Omagh, County Tyrone, in 2010.
During follow-up searches police recovered a sub-machine gun, a hand gun and ammunition from a vehicle belonging to Daniel Turnbull.
Police have said they believed these items were intended to be used in a dissident republican attack.
A spokesman for the police's serious crime branch said: "The recovery of these weapons has undoubtedly saved lives.
"Police will continue to combat the threat posed by dissident republican individuals and groups who plan to use violence to further their agendas."
McGuigan was found guilty at his trial last November and the other three pleaded guilty on 6 January.
McCallion, 25, of Rathlin Drive, McLoone, 25, Abercorn Road, both Londonderry, and Turnbull, 33, Strule Park, Omagh, each admitted possession of a firearm with intent on 11 October, 2010.
Turnbull also pleaded guilty to a further count on the same date of possessing articles likely to be used in terrorism.
McGuigan, 29, of Sperrin View, Omagh, had already been convicted of possessing a firearm with intent and possessing a firearm and ammunition in suspicious circumstances.
The gun was found when uniformed officers stopped a Ford Fiesta car on the Gorticashel Road outside Omagh.
The court heard McGuigan was driving the car and that Turnbull was the front seat passenger and that rear seats of the car were laid down flat.
McCallion and McLoone were sitting in the rear of the vehicle.
During a search of the vehicle, police found a green Celtic holdall and inside was a loaded .38 Webley revolver, concealed inside a sock.
The weapon had been deactivated in 2003 but had been reactivated to fire .22 rifle cartridges.