Boyd Douglas of TUV apologises to Sinn Féin's Anne Brolly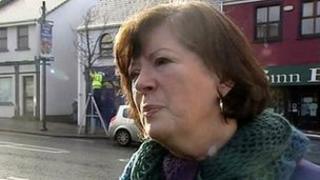 A unionist councillor has issued a High Court apology to a Sinn Féin member for defaming her in a radio interview.
Boyd Douglas will also pay legal costs to Anne Brolly as part of a settlement reached in her libel action.
Mr Douglas, a Traditional Unionist Voice member of Limavady council, was sued over remarks he made in June 2011.
His comments came after a meeting of the council, on which Mrs Brolly also sits, was disrupted due to a union flag being displayed in the chamber.
Proceedings were brought against both Mr Douglas and the BBC.
In court on Monday, counsel for Mrs Brolly confirmed that both parts of the case have been fully settled.
Judgment was given for the BBC with no order for costs.
Mr Justice Gillen was also told the action against Mr Douglas had been resolved, with an apology then read out in court.
The agreed statement said: "In the course of a discussion on the Good Morning Ulster programme, broadcast by BBC Radio Ulster on 14th June, 2011, Boyd Douglas made remarks which were defamatory of Anne Brolly.
"It is accepted by Boyd Douglas that the remarks were wholly untrue.
"He unreservedly withdraws the allegations and apologises for the distress which they caused Anne Brolly."
Neither councillor was in court for the settlement.
However, Mrs Brolly's barrister added that an agreed sum in legal costs is to be paid by Mr Douglas.