No A&E crisis, Edwin Poots tells Northern Ireland Assembly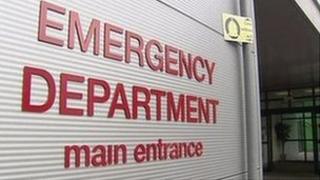 There is no crisis within Northern Ireland's accident and emergency departments, the health minister has told the assembly.
Edwin Poots was responding to an urgent question asked by the SDLP following last week's major incident at the Royal Victoria Hospital in Belfast.
Belfast Health Trust said the move was necessary to trigger more staff to come into help clear a backlog of patients.
Staff and patients said conditions were horrendous.
Mr Poots however said some politicians and the media should have been more mature in their response to what happened.
The SDLP said the closures of two other A&E units at weekends had made matters worse.
The party has secured a debate on the restoration of full A&E hours at Downe Hospital in County Down.
The debate will take place on Tuesday.
Downe Hospital's emergency unit, and that of Lagan Valley Hospital in Lisburn, County Antrim, are now closed at weekends due to a shortage of staff.
The decision was taken before Christmas and the first weekend closures took place on Saturday 4 January.
'One-off'
Four days later, Belfast's Royal Victoria Hospital (RVH) declared a major incident, calling in dozens of extra staff to help clear a backlog of patients waiting for A&E treatment.
Mr Poots previously said the incident was a "one-off" and had arisen due to a "massive number" of hospital admissions between Monday and Wednesday.
He said staff had coped and turned around what was "a very bad situation" within three hours.
But the SDLP's health spokesperson, Fearghal McKinney, said cutbacks at Downe and Lagan Valley were putting pressure on other full-time emergency departments.
'Crippling pressures'
He said the weekend closures "contributed significantly to the surge in demand" at the RVH and Craigavon Area Hospital in County Armagh.
The SDLP MLA said Mr Poots "must wake up to the crippling pressures faced by A&E departments and put in place a strategy".
"The deepening crisis over A&E provision is alarming and must be addressed by the minister as a matter of urgency," he said.
"Doctors and nursing staff should never have to face a night like they did last Wednesday at the Royal Victoria Hospital."