Northern Ireland churches: Haass talks 'missed opportunity'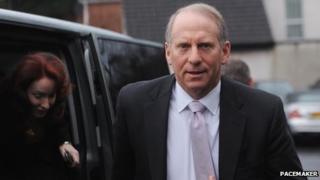 Not doing a deal at the end of the Haass talks was a missed opportunity, a spokesman for Northern Ireland's four main church leaders has said.
The negotiations, chaired by US diplomat Richard Haass, ended on New Year's Eve without agreement.
They had focussed on the issues of flags, parades and the past.
Speaking on Radio Ulster's Sunday Sequence, Bishop John McAreavey, encouraged politicians to sustain the momentum generated by the process.
"In a divided society, you don't ever get your own vision translated perfectly into action," he said.
"If we were ultimately to fail in this process to reach consensus, I think it would be very serious for us and for our whole society, for our young people and for everyone who's trying to work for a better society."
Speaking on the BBC NI's Sunday Politics, Secretary of State Theresa Villiers said it was wrong to say that the talks had failed.
"The reality is we'll only get a solution on these issues if there is a cross-party agreement, cross-communal, cross-party agreement within Northern Ireland," she said.
"In many sense that was the whole point of devolution, so that decisions on crucial issues like this could be made by the people elected by the people of Northern Ireland."
'Close the gap'
The DUP's Jeffrey Donaldson said problems within the Haass proposals needed to be addressed.
"How do you compromise on something as stark a reality as the fact that 90% of the deaths in Northern Ireland were caused by terrorism and Dr Haass can't even bring himself to acknowledge that?" he said.
"What we need to do is close the gap in the areas where there is not agreement, I believe that can be done."
However, Sinn Fein's Gerry Kelly said: "In the whole, this is a document that we can move on with and I think that's what three of the parties here are saying.
"Every single agreement we've had, the biggest difficulty in it has been implementation, that's why we're dealing with three issues that were already dealt with in the Good Friday Agreement and the St Andrews Agreement."
'Terrorism airbrushed out of history'
Ulster Unionist leader Mike Nesbitt said the Haass document had "airbrushed terrorism out of history".
"I spoke to many victims and survivors who encouraged me not to go near the Haass deal, including Innocent Victims United who represent thousands of victims, they didn't want it," he said.
"Let's do it quietly and let's get on with it the way we're suppose to do - up at Stormont."
The SDLP's Alex Attwood said the chance to move forward could not be missed.
"There are issues within this document where we think through implementation legislation that we can get even better," he said.
"But do not now put in jeopardy the best chance since 1998 to deal with some of the biggest issues that we've never faced up to before."
'Leadership required'
Naomi Long of Alliance, said the party wanted to implement what was agreed but was concerned about what had been left out of the proposals.
"I think the important thing that Richard Haass said is that more time is not what's going to solve this, it's more leadership that's required," she said.
"So what I don't want to see is the parties involved in another process that will rehash the last six months, because I think the public frankly are tired of us arguing about these issues, they actually want to see not process, but delivery."
Sinn Féin and the SDLP have endorsed the proposals, but the DUP, UUP and Alliance have, so far, rejected elements of the Haass blueprint.
The leaders of the five main parties at Stormont are due to meet next week to discuss the way ahead.