CAR violence 'hampering aid' says Tearfund's David McAllister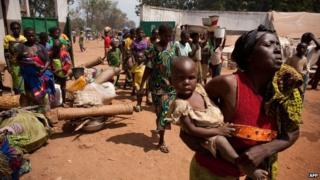 Violence that continues to engulf the Central African Republic is hampering crucial aid efforts, a County Armagh charity worker has said.
David McAllister of Tearfund arrived in the country last week to carry out an assessment of what is needed on the ground, as displaced people fleeing the conflict pack into overcrowded camps with poor sanitation.
The UN has warned of an impending humanitarian disaster.
Since December and the arrival of more regional peacekeepers and French troops, 1,000 people have died in sectarian clashes.
Mr McAllister said clean water and sanitation were immediately needed, but the situation remained tense.
"It takes a bit of time to get organised, but you have to keep in mind the young mother with a little baby who has no food or water but has to stay there for security reasons," he told BBC Radio Ulster's Talkback.
"There is a need for urgent work but it still takes time to organise these things in a proper way.
Mr McAllister, whose son Paddy plays for the Ulster rugby team as a prop, said violence can break out at any time.
"Two days ago, all services had to be cancelled at the airport site because young men got out of hand - these are young men with guns," he said.
"I was on my way to the airport this morning when we had to turn back because the population has taken over the airstrip to block the president coming back into the country.
"We're under lockdown today and there's sporadic shooting - it's hard to deliver services to people who really need it when the situation is so volatile."
The country's interim President Michel Djotodia resigned on Friday at a regional summit in Chad aimed at ending the violence.
Thousands of people took to the streets in CAR's capital, Bangui, most of them celebrating the news that he had quit.
Mr Djotodia, CAR's first Muslim leader, seized power last year. Since then 20% of the population have fled fighting between Christian and Muslim militias.
Mr McAllister said the logistics of organising aid were difficult, with some supplies taking days to be driven in from Cameroon, and information was often scarce.
The son of missionaries from Northern Ireland, Mr McAllister grew up in Africa but his wife is currently back in Markethill, and he has strong roots back home.
"I would never say that Northern Ireland hasn't suffered, but I've done a lot of work in the Democratic Republic of Congo and Rwanda as well, and when you look at critical situations in these countries in Africa with what we've lived through in Northern Ireland, it's not actually comparable," he said.
"Africans have a great propensity for forgiveness and getting along together, but this has to start at the top."