Noel Molloy to quit as director of NI stadium redevelopments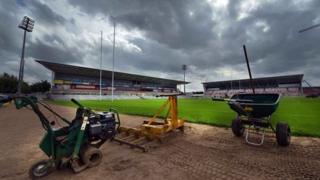 The man in charge of the redevelopment of Northern Ireland's three main sports stadiums is to quit his post.
Noel Molloy, who also oversaw the construction of the Titanic Belfast building, is taking up a new job in the private sector.
Since April 2012, he has overseen the redevelopment of Windsor Park football stadium, Ravenhill rugby ground, and the GAA's Casement Park in Belfast.
The sports minister paid tribute to his work on the ongoing projects.
"Noel came into the department with a big reputation, and he has lived up to it," Minister Carál Ní Chuilín said in a statement.
"I am delighted that his experience and knowledge will continue to be a huge resource on which I, and the department, can continue to rely in the time ahead."
'Landmark'
Public funding to renovate the three sports grounds was granted after plans for a shared multi-sports stadium on the site of the former Maze prison were abandoned in 2009.
Ms Chuilín said that in April 2012, her department took over responsibility for the stadium programme and that she "appointed Noel Molloy as programme director, to ensure it would be realised".
"Before Christmas, DCAL secured the final funding agreements and the awards of final construction contracts, for Windsor Park and Casement Park. This landmark concluded the stadium programme's most significant delivery phase to date, including huge construction progress on Ravenhill.
"We are now entering the 'bricks and mortar' construction period, and I have absolute confidence that DCAL's stadium programme team will effectively and efficiently deliver this end-phase of the programme over the next two years," the minister added.
'New challenge'
Mr Molloy said: "I am proud and pleased that, as part of a great team, I have assisted in bringing this programme to its most significant landmark, commencement of the construction phase on all three stadiums."
He added: "Although I am moving to take up a new challenge in the private sector, I will continue to be assisting the end-phase of the stadium programme in whatever way possible."