Antrim construction firm Mivan goes into administration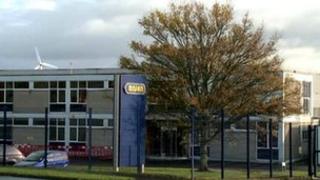 Mivan, one of Northern Ireland's best known construction companies, has been placed into administration.
The Antrim-based firm employs 289 people and specialises in fitting out cruise ships and high-end commercial and residential developments.
The administrator said the firm would "continue to trade while all options are assessed".
Mivan made massive losses on projects in Romania which led to a restructuring of the business in 2012.
Even after that it warned that it was still facing "extremely challenging circumstances".
Late last year, it entered talks with Lagan Group Holdings about a possible takeover deal, but the discussions ended without agreement.
It is the biggest casualty in the Northern Ireland construction sector since the Patton group collapsed in 2012.
In a statement, Mivan chief executive Ivan McCabrey said after talks over the merger failed to reach agreement, "the directors have been reviewing future options in conjunction with our bankers and professional advisers.
"It is with regret therefore; that the directors have today sought the protection of administration in order to preserve the future options of the business."
John Armstrong, Managing Director of the Construction Employers Federation (CEF) said: "This is a sad day for the local construction industry. First and foremost our thoughts are with the 300 workers whose jobs are now in peril.
"Today's announcement is a particularly cruel blow in light of the recent stabilisation witnessed in the industry."
"Mivan had an excellent reputation and was renowned for its export success over many years. Many local companies have followed Mivan's lead in this regard and now over 70% of the turnover of our top 20 construction companies is generated outside Northern Ireland.
"Had it not been for the industry's remarkable success in winning work outside Northern Ireland, many more local people would have been out of work in recent years."
Mivan was founded by Mr McCabrey in 1975 and he quickly moved into overseas contracting.
In the early 1980s, the firm was involved in a wide range of projects in Iraq, including power stations, apartments and a palace for Saddam Hussein.
The company continued to win work in the Middle East, including the restoration of the prestigious Dome of the Rock in Jerusalem for which it won a Queens Award for Export.
Other high profile jobs included fit-outs at Disneyland Paris, the Millennium Dome and One Hyde Park, London's most expensive apartment development.
Romanian losses
The company was not heavily exposed to the Northern Ireland housing crash, with just one major site in Comber.
However, two joint ventures in Romania became expensive problems.
One of the joint ventures, Rathenraw Ltd, which was a partnership with the UK firm, Kier, collapsed into insolvency at the end of 2010.
It was supposed to build a large amount of public housing.
A second joint venture with a group of property developers from the Republic of Ireland planned to develop seven shopping centres but not all were built.
Between 2009 and 2011 the firm lost almost £50m.
It continued to win major contracts, particularly for cruise ship fit-outs, showing a turnover of £61m in 2012.
But the problems in Romania appear to have weakened the firm.
One former employee, who left the firm just before Christmas, said it had become increasingly clear to him that the business was running out of money.
Peter Allen of Deloitte, who has been appointed as the administrator, said: "With the support of key stakeholders, including the bank, the business will continue to trade while all options are assessed."