Decision day for Ireland's young scientists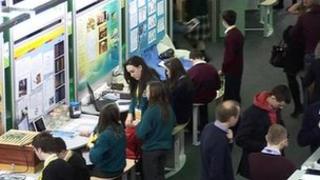 Today is judgement day at the BT Ireland Young Scientists exhibition.
More than 2,000 projects from around the island were entered into this year's exhibition, with 550 selected to take part.
The Young Scientist exhibition is 50 years old.
It is a great milestone for an event that encourages young people to explore the world around them. They pose scientific questions and often come up with answers and solutions.
Colm O'Neill is chief executive of BT Ireland, which organises and sponsors the event.
"The winners of this event go on to compete in the European Young Scientist competition", he said.
"In the 25 years that this has been running, the winner here has won 14 times, which is an incredible achievement."
This year there are 54 students from Northern Ireland taking part with 27 projects from 16 schools.
Among them is Lavina Blanking from St Mary's College in Londonderry.
She investigated whether more natural marinades would be healthier than shop bought ones, especially when cooked at higher temperatures.
And she has this advice for shoppers: "Buy vinegar, orange juice or any fruit juice as a marinade because they are far healthier than the shop-bought marinades."
Victoria Watson and Niamh McIntosh from St Killian's College in Carnlough, County Antrim, created their own anti-food waste device costing them £5.
It can be put in a fridge to help people differentiate between "use by" dates, "display" and "best before" dates.
Niamh said their device tracks the food's dates and uses "a traffic light system to alert users as to when their food is safe to eat."
Victoria said that their device could save a family around £10 a week.
"We didn't expect there to be so much savings", she said.
"We thought we could help families because we knew from our families complaining about how much food was going to waste."
Also from County Antrim, Zoe Cheshire and Emily Lecky from Ballyclare High School came up with a device that offers solar powered water sanitation after natural disasters in the Third World.
People will be able to clean suspected dirty or contaminated water, they said.
They believe their device can be "flown out, flat-packed to Third World countries as aid relief after natural disasters. The people themselves can build it and it will empower them and they can use the product repeatedly," they said.
The current economic climate may not be a natural disaster, but many people are trying to save money by, for example, washing clothes at lower temperatures.
But in their project aimed at raising awareness, Rochelle Morrison and her colleagues from St Mary's College in Derry said they had come up with some worrying findings.
Such low temperature washes, Rochelle said, "are not killing off bacteria which can spread diseases like the Hepatitis A virus and e-coli."
Rochelle and all the other students will know by tea-time on Friday who this year's Young Scientist winners are.