Queen's University Belfast joins global university race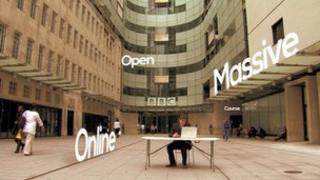 Almost 6,000 people from across the world have signed up for the first Moocs - free massive online courses - at Queen's University, Belfast.
People from Japan, China, Italy and Spain will be taking part.
The Moocs (Massive Open Online Courses) open up the possibility of higher education study regardless of where people live in the world.
There are no entry qualifications or prior study requirements,
The first course to be offered by Queen's is Critical Listening for Studio Production, which goes live on 13 January.
It is a technical programme designed to help train the ear in order to improve critical listening in a music studio context.
A second course, Identity, conflict and public space: contest and transformation, is due to begin in March. It has been developed by Dr Dominic Bryan, from the university's School of History and Anthropology.
"The second MOOCs course offered by Queen's is hugely topical at the moment in many societies around the globe," he said.
"Here in Northern Ireland we only have to look at recent issues surroundings flags, parades and memorials. This free course, which is accessible to anyone with internet access, looks at issues around the use of public space to express identity."
Donna Hyland, an educational developer at Queen's, said the university's global reputation in the area of identity and conflict transformation would make the second course of particularly attractive.
"We expect a great deal of interest in the course from people at home and around the globe," she said.
"Queen's prides itself on providing a world class education, and now, via our Moocs courses, I am proud to say it is available for free across the world."