Dementia sufferer moved from bed in Royal Hospital, Belfast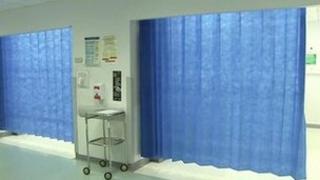 Among those affected by the major incident at Belfast's Royal Victoria Hospital on Wednesday night was 89-year-old Elizabeth Fitzpatrick.
Elizabeth, who has dementia, was admitted to the hospital on New Year's Eve.
Shortly after midnight on Thursday, her family was told she was being moved to Musgrave Park Hospital.
Her son, Harry, said it was not until he phoned that hospital on Thursday morning that he discovered the move was to free up a bed in the Royal.
"It's just ridiculous, especially for elderly people," Mr Fitzpatrick said.
"She hasn't been very well in the past week with her dementia - she's been unsettled and confused.
"It's absolutely unbelievable for a lady who will be 90 in April and has been unwell to be moved out of the warmth of her hospital bed into the cold air.
"This just came totally out of the blue."
Mr Fitzpatrick said he had been the main carer for his mother since April of last year.
"If I had to move her for any reason, 12.30 in the morning would be the last moment I'd think about doing it want to do it," he said.