Police seize cannabis worth £160,000 in Enniskillen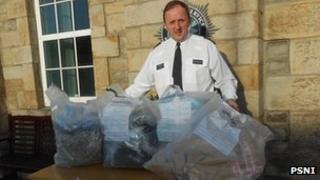 A 28-year-old man has been arrested in connection with the seizure of cannabis with an estimated street value of £160,000 in Enniskillen.
The drugs were recovered in the Wellington Road area on Tuesday.
Drugs equipment was also seized during a follow up search at a house in Old Rosorry Road in the town.
A further £10,000 of cannabis and drugs equipment were found during a further search in a house in Benburb Street, Belfast.
Insp Roy Robinson, sector commander, Enniskillen , said: "In continuing our commitment in tackling drug crime, the seizures which took place yesterday were successful in taking these drugs off the streets.
"These seizures show our commitment to tackling the issue of drugs on our streets. We are determined to work with the communities and partner agencies to bring people before the courts.
"Drugs remain a problem throughout Northern Ireland, and despite drug related fatalities and repeated warnings regarding the dangers, there remain those that insist in taking illegal drugs."