Jonathan Falls jailed after filming sexual assault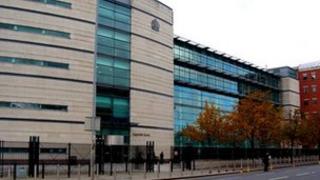 A former soldier who filmed himself sexually assaulting a woman has been jailed.
Jonathan Falls, 29, from Rathmoyne House, Seymour Hill, Dunmurry, County Antrim, attacked her in his living room after she passed out drunk on his sofa.
The court heard Falls recorded part of the assault on his friend's mobile phone. His friend later reported the sex attack to police.
Falls will spend 15 months in prison and a further 15 months on licence.
He had pleaded guilty to one count of sexual assault and one count of committing an offence with intent to commit a sexual offence.
Passing sentence, the judge described his actions as a "callous, cynical and opportunistic" assault.
"This was serious sexual offence in which the defendant took advantage of a young woman who he knew was unable to resist, because of her condition. He assaulted her and took an intimate video of her," the judge said.
Argument
The court heard the woman was so traumatised by what occurred that she has since emigrated.
A Crown prosecutor said the attack took place during the early hours of 7 April, 2012, after a group of people including Falls and the woman had been drinking in his flat.
The court was told that a friend of Falls who witnessed the attack began to try and distract Falls by turning up the music, which woke up Falls' partner who was asleep in an upstairs bedroom.
An argument broke out between the couple, and the friend left the house then called the police to report a domestic incident.
The court was told that while Falls' friend had footage of the attack on his mobile phone - which Falls had filmed - he did not immediately tell police as he wanted to speak to the victim first.
After she viewed the footage and with her consent, Falls' friend then told the police what had happened.
Threats
When he was arrested, Falls initially claimed the sexual contact between him and the woman was consensual and claimed his friend must have recorded the footage, but he later admitted the offences.
A defence barrister told the court his client "was not prone to casual impropriety" and had been the subject of threats on social networking sites.
The judge spoke of the woman's vulnerable state, and told Falls he had committed a "depraved act" which displayed "a total disregard for the feelings of his victim".
Falls was placed on the sex offenders register for seven years and is also subject to a seven-year Sexual Offences Prevention Order.