Man released over Victoria Square shopping centre bomb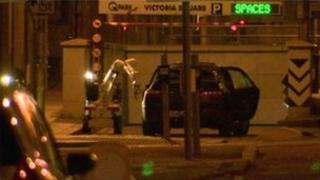 A 27-year-old man, arrested by police investigating a bomb attack in Belfast city centre just over six weeks ago, has been released unconditionally.
The bomb partially exploded inside a car at the entrance to Victoria Square shopping centre car park on 24 November.
It detonated as Army bomb disposal experts prepared to examine the car. No-one was injured.
The man was arrested on Wednesday and questioned at Antrim police station.