Bafta Film Awards 2014: NI writers nominated for Good Vibrations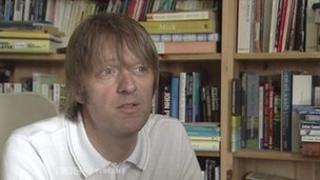 Two writers from Northern Ireland have been jointly nominated for a Bafta (British Academy of Film and Television Arts) award for a film set in Belfast.
Glenn Patterson and Colin Carberry co-wrote the film Good Vibrations.
It tells the story of Terri Hooley, who championed Northern Ireland's punk music bands at the height of the Troubles in the 1970s.
The film Philomena, which was partly shot in Northern Ireland, has received four Bafta nominations.
It is contending for awards in the best film, outstanding British film, and adapted screenplay categories, while its leading lady, Dame Judy Dench, receives a nomination for best actress.
It is Dame Judi's 15th acting nomination, setting a Bafta record.
Based on the real-life story of Irish woman Philomena Lee, the movie follows her search to find the son she was forced to put up for adoption in County Tipperary during the 1950s.
It was partly filmed in County Down, including Rostrevor village, during 2012.
Irish actor Michael Fassbender has also been nominated as best supporting actor, for his role in 12 Years a Slave.
Belfast-born writers Glenn Patterson and Colin Carberry received their joint Bafta nomination in the outstanding debut by a British writer, director or producer category.
Patterson is a well-known author of eight novels and works as a creative writing lecturer at Queen's University, Belfast.
Colin Carberry, who also works at the university, has a background as a short fiction writer and in arts journalism.
Good Vibrations was Carberry's first attempt at screenwriting.
Terri Hooley, known as the godfather of punk in Northern Ireland, started his own record label for local bands and played a key role in bringing Londonderry group The Undertones to worldwide attention.