Unmistakeable taste of freshly-picked cherries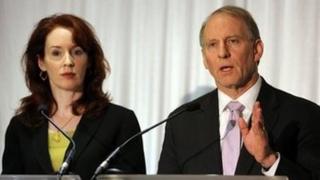 According to the Ulster Unionist leader Mike Nesbitt, Richard Haass gave the Stormont parties only three options with his final seventh draft document - say Yes, say No, or take it back to your party. But don't - according to Mr Nesbitt - cherry-pick.
Yet now we have all the party responses in, (assuming Sinn Féin's Ard Comhairle meeting will ratify their negotiators' acceptance), the taste of freshly-plucked cherries is unmistakeable.
Alliance objected strongly to the procrastination over flags and thought the parading section needed major changes.
But they were prepared to accept the remaining third of a deal - setting up new institutions to deal with the past.
If this was cherry-picking, then it's also worth pointing out that Alliance was the only negotiating team given the explicit power to say yes or no to a deal at the final round table session.
The DUP leader Peter Robinson has taken issue with Mike Nesbitt's all-or-nothing approach.
In his report, Mr Robinson described the notion that the Haass manuscript had to be accepted or rejected in its entirety was a "misapprehension".
No secret
The DUP has not been as transparent as Alliance about which Haass cherries it likes and which it doesn't - however Mr Robinson's assertion that the Haass structures "need much more work before they could function in the best interests of the community" falls well short of an endorsement.
Speaking in the Stormont Great Hall, Mr Robinson declined the opportunity to list his areas of disagreement, but unionists in and around the talks made no secret of the fact that they were unhappy about the proposed parading code of conduct and much of the language used in relation to dealing with the past.
Presenting the UUP's more unequivocal "No" to the Haass proposals at Templepatrick, Mike Nesbitt spelled out those concerns.
He described extra criteria placed on parades as "sinister" and argued that the new investigative bodies related to the past would not shift the focus onto the role of the IRA and loyalists but continue to shine a bright light mainly on the state and its security forces.
Disagreement
By contrast to the unionists' reservation, we have Sinn Féin's recommendation to accept and the SDLP's "general endorsement" of the Haass proposals.
So in summary, Haass Seven got two acceptances, one rejection and two exercises in cherry-picking.
A cross-party working group may now be set up to consider what to do next, but there is disagreement about what the role of such a working group should be.
Martin McGuinness wants it to implement Haass Seven as it stands, but Peter Robinson said it should "resolve outstanding areas of disagreement and implement agreements when identified".
On Stormont's previous track record don't hold your breath waiting for the group to produce Haass Eight (minus Haass, of course).
DUP response to Haass proposals