Gerry Kelly: Police Land Rover driver to be reprimanded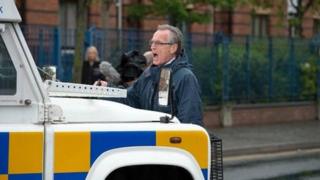 A police officer is to be reprimanded for his part in the incident in which Sinn Féin MLA Gerry Kelly was carried on the bonnet of a PSNI Land Rover.
Mr Kelly has already received a formal reprimand for clinging to the vehicle after attempting to stop it during a contentious parade in June last year.
It is understood the police officer will receive his reprimand on Tuesday or Wednesday.
A person refusing to accept the reprimand can prosecuted in court.
The incident occurred in north Belfast following a contentious Orange march.
Prosecuted
After receiving the formal reprimand on Monday, Mr Kelly said: "I believed at the time I did the right thing. I was part of calming a very difficult situation," he said.
"I have always believed that this is a matter which should not be brought before the courts."
Unionist politicians, including DUP MP Nigel Dodds, said Mr Kelly should have been prosecuted over the incident.
The case of the police officer who drove the Land Rover was referred to the Police Ombudsman who then passed it to the Public Prosecution Service (PPS).
A PPS spokesperson said: "I can confirm that the test for prosecution is met in the case involving Mr Gerard Kelly MLA and the police officer.
"Having regard to all the circumstances of the case, it was concluded that a diversionary disposal was appropriate."
The officer is now to be reprimanded for driving without due care and attention.
While a diversionary disposal, or informed warning, is not a conviction, it will remain on a person's criminal record for 12 months.