Pearse Jordan's family sues over inquest delay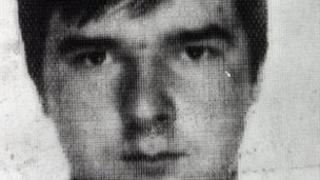 The family of an IRA man shot dead by police should receive damages for an 11-year delay in holding an inquest, the High Court in Belfast has heard.
Lawyers for Pearse Jordan's parents claimed they were entitled to a pay-out for alleged failures by police and the coroner to hold a prompt tribunal.
Pearse Jordan was killed in disputed circumstances after a 1992 car crash.
In October 2012, a long-delayed inquest failed to reach agreement on key aspects of the case.
It was one of several, high-profile cases during the Troubles, where the families of men killed by the security forces in Northern Ireland claimed that their relatives died as a result of a "shoot-to-kill" policy.
Lawyers for Jordan's father have claimed the inquest was unfair and want a new hearing ordered.
Separate proceedings were launched on Monday seeking damages for the time it took for the tribunal to be held.
The alleged delay occurred between May 2001, when a European ruling found the delay up to that point violated human rights, and September 2012 when the inquiry began.