Flood alert for Northern Ireland's coastal areas passes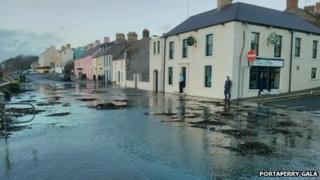 High tides and strong winds caused difficult driving conditions in some parts of Northern Ireland's east coast on Monday, but Belfast escaped major flooding.
The threat posed to parts of the city by high tides has now passed.
A small number of roads in counties Antrim and Down were closed by flooding, but the effect of the tide was not as bad as initially feared.
A police warning to avoid coastal areas was in place throughout Monday.
In County Down, high tides flooded the shorefront in Portaferry, Holywood Esplanade was closed because of flooding and Newcastle promenade was shut due to "adverse weather conditions".
Sailings on the Strangford ferry were suspended between 16:00 and 17:00 GMT because of the high tide.
The A2 Coast Road through Carnlough village in County Antrim and a section of the Coast Road between Drains Bay and Ballygally were closed for a short time due to floods.
Sandbags
Shortly before 15:00 GMT, Belfast Lord Mayor Máirtín Ó Muilleoir tweeted that the tide had turned and he congratulated those who worked to ensure the city "stayed dry and safe".
Thousands of sandbags were given out in the Sydenham area of east Belfast in recent days, where homes were thought to be at risk.
Alliance MP Naomi Long paid tribute to the services and agencies for their "swift response" to the situation over the weekend.
"There was a huge amount of effort involved in Sydenham to get the area ready for a flood that luckily did not materialise.
"Although the worst-case scenario did not happen today or last Friday, I know the work that was undertaken was a huge reassurance to residents during what was a stressful time," she added.
'Good co-ordination'
"As well as agencies such as the Fire and Rescue Service, Belfast City Council and Red Cross among others, particular praise must go to ACC Stephen Martin of the PSNI, who co-ordinated the efforts and had plans in place for every eventuality.
"It was a fantastic example of good co-ordination and inter-agency working for the benefit of everyone in the area," Ms Long said.
In County Down, police set up a "multi-agency response group" at Ardmore PSNI station in Newry.
It followed flooding on the Shore Road between Warrenpoint and Rostrevor during high tide on Sunday.
Sandbags were made available for collection at Newry sports centre, Warrenpoint fire station, Kilbroney forest park in Rostrevor, Kilkeel leisure centre, and Marine Park in Annalong.
Down District Council distributed sandbags from its depot on Strangford Road, Downpatrick, and from Bann Road recycling centre in Castlewellan.
In Londonderry, residents in Culmore Point were unable to leave their homes for a time on Monday morning, when the area was flooded.
Sandbags were put in place in central Derry as a precaution, but fears eased following a high tide on Monday.
Derry city centre manager Jim Roddy said: "Sandbags were necessary. There were fears that the River Foyle would burst.
"In 2004 we had a disaster at Victoria market near the pumping station and we didn't want that again," Mr Roddy added.
All ferry sailings between Rathlin and Ballycastle were cancelled on Monday due to weather conditions.
Elsewhere in the UK, the Met Office also issued yellow alerts for the west coast of Britain.
In the Republic of Ireland, thousands of homes and businesses were left without power, amid strong winds and tidal surges.
Some streets in central Cork were impassable for a time on Monday morning as the River Lee burst its banks again, but the water has since receded.
Anyone who wishes to report flooding can call a flooding incident line on 0300 2000 100 or the police non-emergency line on 0845600 8000.