Reduced Downe A&E hours 'may lead to deaths'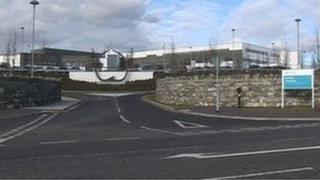 There is a "great risk" people will die as a result of the weekend closure of a hospital accident and emergency unit, an MLA has said.
Chris Hazzard was referring to the reduced opening hours at the emergency unit at Downe Hospital, Downpatrick.
Lagan Valley Hospital in Lisburn has also had its emergency hours cut, with a shortage of qualified emergency doctors blamed in both cases.
Mr Hazzard said it was luck "we are not seeing far more severe consequences".
The emergency units at both hospitals are only open from Monday to Friday 08:00 GMT - 20:00 GMT. The new hours came into effect on 4 January.
Mr Hazzard, a Sinn Féin MLA, said he had "anecdotal evidence of the dangers of this situation" at the Downpatrick hospital.
"Let's be under no illusions, we face a great risk that people will die because of these changes," he said.
"The trust have said that additional ambulance cover would be provided in the Down area," he said.
Smoke inhalation
"Yet on the very first night that these changes were made at the weekend a young child suffering from smoke inhalation at an incident less than ten minutes from the Downe hospital, had to wait for a paramedic car to arrive from Newtownards.
"When the paramedic arrived it was then decided that an ambulance was needed.
"They then had to wait for an ambulance to come from the Newry area, which is more than 30 miles from Downpatrick.
"This sort of incident should not be allowed to happen and we are very, very lucky that only a couple of days after these changes were made we are not seeing far more severe consequences."
Seamus McGorran of the South Eastern Trust said he was disappointed that both units had to close at weekends but it was the "right decision".
"This is something we've had to do in the interests of sustaining emergency services generally in both Downpatrick and Lisburn areas," he said.
"There is a national shortage of emergency department doctors.
"It has been impossible for us to actually get the required number of doctors to deliver a seven-day service.
"I'm not particularly happy that we've had to make this decision, but it is the most important and responsible decision to make in the interests of safety and sustainability".
He said the trust had tried numerous ways to recruit staff to the smaller hospitals, including flying doctors in from other countries.
Mr McGorran said he did not foresee a return to seven-day opening hours at the units.
On Friday, the Health and Social Care Board said it had accepted the trust's view that the changes were "unavoidable".
The board said that on average, about 27 patients were admitted from the A&E departments to the Downe and Lagan Valley Hospitals each weekend; 11 to the Downe and 16 to Lagan Valley.
It is expected that at least half of these patients will continue to be admitted directly via the GP out-of-hours service to the two hospitals, rather than having to be admitted via an emergency department.
The remainder are expected to be admitted to other hospitals, mainly the Royal Victoria Hospital in Belfast and Ulster Hospital, Dundonald, with very small numbers going to Craigavon, Antrim and Daisy Hill hospitals.
Additional services are in place across Northern Ireland during the transitional period.
These include:
Up to 10 additional beds could be opened in Lagan Valley Hospital
At the Ulster Hospital, two additional nurses will be on rota from 12:00 GMT until midnight in the A&E on Saturdays and Sundays and 10 additional beds have been opened over the winter period
At the Royal Victoria Hospital, there are six additional in-patient beds; additional A&E nursing staff and senior doctors at weekends
In the Southern Trust, there are four additional in-patient beds at Craigavon Area Hospital and an additional emergency nurse practitioner on duty during the day in the A&E departments of both Craigavon Area Hospital and Daisy Hill hospitals
There are additional emergency and non-emergency ambulance crews in the Downpatrick and Lisburn areas at the weekends
Additional hospital ambulance liaison officers are in place at the Ulster, Royal Victoria and Craigavon Hospitals.
SDLP MP Margaret Ritchie has called for an urgent meeting with Stormont Health Minister Edwin Poots to "ensure new middle-grade doctors are recruited so they can work as locums at the weekend in Downe Hospital A&E".
Paul Givan, DUP assembly member for Lagan Valley, said the closures must be a short-term measure.