Flood warning for parts of Belfast and Ards peninsula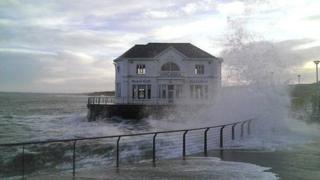 The police have issued a flood warning for parts of Belfast and the Ards peninsula.
More heavy rain and strong winds are expected in some parts of Northern Ireland during high tide on Monday afternoon.
In County Down, Holywood Esplanade has been closed due to flooding and Newcastle promenade is shut due to "adverse weather conditions".
The Met Office has issued a yellow warning of winds for Northern Ireland.
"Strong winds will combine with large waves to bring the risk of coastal flooding," it said in a statement.
"The public should be aware of the dangers of waves crashing onshore and over-topping shore lines and sea fronts."
Assistant Chief Constable Stephen Martin, who is in charge of the multi-agency response, said operators of underground car parks in Belfast city centre had been advised to close on Monday as a precaution.
"We would urge the public to remain on alert and to be mindful of their own safety, in particular, to avoid coastal paths, be wary of possibly unstable harbour defences and to drive with extreme caution as many roads continue to be affected by surface water," he added.
Belfast Lord Mayor, Máirtín Ó Muilleoir, spent the morning touring parts of the city at risk of flooding and said the authorities were "well prepared" for the worst.
However, he said they were hopeful that a number of factors could help Belfast to escape flooding.
"One, it's not raining, so we don't have this deluge of water coming into the rivers," Mr Ó Muilleoir told BBC Radio Ulster's Talkback programme
"Also, the wind is blowing away from the harbour, so there are some things in our favour. The last thing is that the tidal surge level is slightly lower than Friday.
"So we have our fingers crossed - we won't know the outcome until after the tidal surge at around a quarter to three (14:45 GMT)."
In County Down, police said high tide is expected at about 14:30 GMT and they have set up a "multi-agency response group" at Ardmore PSNI station in Newry.
It follows flooding on the Shore Road between Warrenpoint and Rostrevor during high tide on Sunday.
Officers said sandbags are available for collection at Newry sports centre, Warrenpoint fire station, Kilbroney forest park in Rostrevor, Kilkeel leisure centre, and Marine Park in Annalong.
Down District Council said sandbags can be collected from its depot on Strangford Road, Downpatrick, and from Bann Road recycling centre in Castlewellan until 16:00 GMT.
Thousands of sandbags have been given out in east Belfast in recent days.
Alliance MP Naomi Long said the situation in east Belfast would be "touch and go" until high tide had passed on Monday afternoon.
She advised residents in areas at risk to "get as much of your stuff upstairs as possible" and have a bag packed in case of emergency evacuation.
Speaking on BBC Radio Ulster, Ms Long said the theft of some sandbags in the area at the weekend had been carried out by a tiny minority.
"There are plenty of sandbags available for people. There is no need to take sandbags away," she said.
Ms Long paid tribute to the services and agencies for their "swift response" to the situation over the weekend.
Sandbags were also put in place in Londonderry city centre as a precaution, but fears over flooding in Derry city centre have eased, following a high tide on Monday morning.
Derry city centre manager, Jim Roddy said: "Sandbags were necessary. There were fears that the River Foyle would burst.
"Preparations were kept in place for this morning and we were constantly getting updates from the PSNI, Foyle Port and Harbour and other emergency services.
"In 2004 we had a disaster at Victoria Market near the pumping station and we didn't want that again," Mr Roddy added.
Sandbags were also distributed in a number of coastal towns in County Down on Sunday.
Strong winds and high tides caused serious flooding in County Down on Sunday.
The Portaferry Road in the Ards Peninsula was closed for a time as was the main road between Rostrevor and Warrenpoint and the A2 Station Road in Killough.
All ferry sailings between Rathlin and Ballycastle have been cancelled on Monday due to weather conditions.
Elsewhere in the UK, the Met Office has also issued yellow alerts for the west coast of Britain.
In the Republic of Ireland, the west coast is expected to see some of the strongest gusts on Monday.
Some streets in central Cork were impassable for a time on Monday morning as the River Lee burst its banks again, but the water has since receded.
Met Éireann (the Irish Meteorological Service) has issued its second highest alert for wind.
A status orange, which means to be be prepared for possible disruption, is in place for Wexford, Galway, Mayo, Clare, Cork, Kerry, Limerick and Waterford.
Gusts of up to 100 to 120km per hour could hit exposed coastal areas.
Anyone who wishes to report flooding can call a flooding incident line on 0300 2000 100 or the police non-emergency line on 0845600 8000.