'Sham marriage groom met bride-to-be at airport'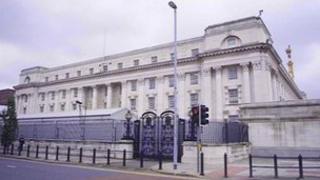 An alleged sham marriage groom met his French bride-to-be at a Belfast airport on the morning of their planned wedding, a court has heard.
Dominic Nartey is accused of plotting with four others to deceive immigration authorities in a ceremony disrupted at Newtownards Registry Office last month.
A second Cameroonian man, Elvis Asaah, is alleged to have agreed to act as a witness at the bogus wedding.
Both have addresses in Cardiff and were refused bail amid fears they may flee.
Mr Nartey, 28, of Redwood Close, Cardiff, is charged with seeking leave to remain in the UK by deception and possession of false identity documents.
Mr Asaah, 29, from Rodgerson Close, also in Cardiff, faces a charge of assisting unlawful immigration.
Both men have been in the UK on visas since arriving in 2010 to continue their university studies.
They were arrested along with the bride and two other suspects over the alleged sham marriage planned for 19 December in Newtownards, County Down.
A prosecution lawyer told Belfast High Court that Mr Nartey initially claimed to have been in a relationship with the woman, a French national, for a year.
"He changed his story when she admitted this was a sham marriage, then admitted to meeting the co-accused bride at Belfast International Airport on the morning of the marriage," she said.
Masters degree
It was claimed that Mr Asaah later told police of his role, and to having acted as a witness at another wedding in Scotland last July.
A defence barrister said that the marriage had not taken place.
He told the court neither man has made admissions and highlighted their education and employment records.
Mr Nartey completed a masters degree in London before taking up work in risk analysis for Lloyds Bank.
Mr Asaah, who met his co-accused six months ago at the funeral of another Cameroonian, has degrees in political science and international security development, the lawyer added.
The barrister said: "He makes the case that a request was made to be a witness at the wedding and that he had no knowledge that this was to be a sham wedding."