MoD apologises as RAF poster angers Bloody Sunday families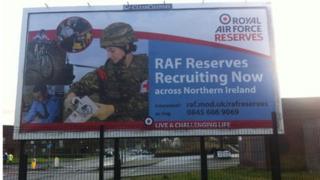 The government has apologised after an RAF recruitment billboard put up in Londonderry angered some relatives of those who died on Bloody Sunday.
Kate Nash, whose brother was one of 14 people killed by the Army in 1972, said the poster put up opposite her home in the Brandywell, was "deeply hurtful".
The poster has since been taken down and the SDLP said this was done responsibly and quickly.
The Ministry of Defence said it was sorry for any offence caused.
In a statement, it said it was an equal opportunity employer and its recruitment drive was about trying to reach as wide an audience as possible.
Ms Nash lost her brother, William, 19, on Bloody Sunday, 30 January 1972 when soldiers from the Parachute Regiment opened fire without warning on a civil rights march in Derry.
Thirteen people were shot dead and another man died later from his injuries.
Ms Nash said the poster was put up yards from her home and she found it very hurtful.
"There have been so many innocent people lost in Creggan, the Bogside and the Brandywell," she said.
"I'm anti-war, I don't want to see posters up like that. We're not ready to have posters saying, 'Let's join the Army'."
Emmet Doyle, SDLP, said: "A number of people have been in touch to say how disgusted they are, and how they find the poster deeply offensive, especially given the time of year in the lead-up to the anniversary of Bloody Sunday."
Mr Doyle said posters such as the RAF recruitment drive could cause hurt and disgust.
However, Jonathan Bell, DUP, said the RAF recruited people from all sections of the community.
"Many will find it bizarre if the SDLP is opposed to RAF jobs being advertised. Such a stance suggests they have forsaken any semblance of commitment to a shared future and equality, let alone fair employment," he said.
"Their actions would merit the charge of stupidity and smack of sectarianism."