Fold Housing plan for former Visteon factory in west Belfast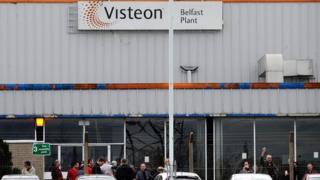 A housing association has submitted plans for a major redevelopment of the former Visteon factory in west Belfast.
Fold Housing proposes to build 244 homes, a community centre and business units at the site in the Finaghy area.
Just under 200 of the homes will be for social housing, while the other 48 will be be classed as private 'affordable' housing aimed at first-time buyers.
The Visteon factory closed in controversial circumstances in 2009 with the loss of more than 200 jobs.
The factory, which sits in a visually prominent site next to the M1 motorway, has remained empty and has been deteriorating.
A planning report compiled for Fold describes the current state of the site as "a blight on the townscape" that "gives a negative impression of the city".
Village greens
Fold's plans involve demolishing the factory and building mainly two and three bedroom houses with a small proportion of apartments and bungalows.
The plans show the housing designed around a series of "village greens".
Access to the site will be via Blacks Road for the residential element and from Finaghy Road North for the business units.
The planning report states that those units would only be developed "when the market recovers" as it would be "counter-productive to build units that could remain vacant and potentially vandalised".
The development is opposed by some local residents who object to the loss of a site which was previously zoned for economic/industrial uses as well as an increase in traffic.
Fold's planning report acknowledges that "residents have indicated that they are completely against residential development".
It adds that residents have "raised a number of non-planning concerns during the public consultation events".
It says that while those matters "cannot be afforded any weight in the planning process" it has taken community views into account "where possible and practicable".