NI floods warning: Coastal areas hit but Belfast escapes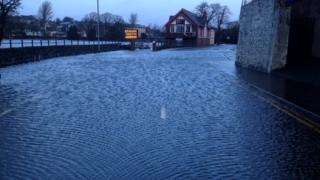 High tides and strong winds have caused flooding in some coastal areas of Northern Ireland but the tide peaked without major flooding in Belfast.
The emergency services had warned of a possible tidal surge hitting the city and police built walls of sandbags in parts of central and east Belfast.
The tide peaked at about 12:10 GMT and the water levels have been falling.
The police said that a flood alert remains in place over the next three days, particularly Sunday and Monday.
Assistant Chief Constable Stephen Martin said: "Over the past few hours we have experienced extreme tidal surges in many coastal areas across Northern Ireland.
"In preparing for these types of events we must plan for the worst but thankfully, on this occasion, our defences held in most areas.
"Unfortunately we're not over this extreme weather yet. We are anticipating another higher than usual high tide around midday on Sunday and Monday afternoon's high tide has the potential again to cause widespread flooding."
He said the police and other agencies would remain on "high alert" over the coming days.
"We would ask people to continue avoiding coastal paths and to drive with extreme caution over the next few days," he said.
"We would advise people to retain their sandbags for potential use again on Sunday and Monday."
On Friday, the River Bann flooded part of Coleraine, County Londonderry, and several coastal paths were impassable.
The main Newtownards to Portaferry coastal road in County Down was closed, and there was flooding in parts of Holywood and Millisle in County Down, and Carrickfergus, County Antrim.
A number of other roads were also closed for a time during the day.
The high tides reached the County Antrim coast on Friday morning.
East Antrim MLA Oliver McMullan urged people to stay away from the Coast Road in Cushendall due to safety fears and he called for the beach to be closed to the public during the storm.
'Tidal surge'
He said the sea wall in Cushendall had been breached in two places and he had seen waves as high as 40ft.
"At the present time the winds and the water that are going on to the Coast Road are making things very dangerous, and it will only get worse," he said.
In County Down, BBC reporter Gordon Adair said the storm had drawn crowds in the seaside resort of Newcastle.
"A large number of people have gathered just off the promenade. The promenade has actually been closed by the council for fairly obvious safety reasons - the waves are crashing over it bringing debris with them," he said.
The Met Office had issued a yellow warning for rain, winds and high tides.
It had been feared that the Sydenham area of east Belfast would take the brunt of flooding in the city and residents were warned to pack a bag in case their homes had to be evacuated.
Police placed walls of sandbags in the area on Thursday evening and the flood defences appear to have held.
A councillor for the area, the PUP's Dr John Kyle, said: "The priority last night was to act to try and prevent the river overflowing, so the banks of the Connswater river have been raised and the flood barrier from Victoria Park through the underpass has been raised as well.
"Several thousand sandbags were made available and several hundred residents availed of them last night."
BBC reporter Mervyn Jess said people living in Sydenham were very relieved that the high tide had passed without causing damage.
He said the direction of the wind and the lack of heavy rain had helped to prevent flooding in the area, but office blocks in the docks area of the city were evacuated as a precaution.
Some roads around the docks area in north Belfast had been closed but have been reopened.
The Northern Ireland Executive met to discuss contingency plans. First Minister Peter Robinson was also involved in planning with police and other agencies late into Thursday night.
The Police Service of Northern Ireland has been co-ordinating a team that includes the Office of First Minister and Deputy First Minister, Belfast City Council, Northern Ireland Fire and Rescue Service, the Rivers Agency, Belfast HealthTrust, Road Service, Northern Ireland Water, Northern Ireland Electricity, BT and Translink.
P&O ferries between Larne and Cairnryan resumed with their 16:30 GMT departures after services had earlier been cancelled. Passengers were advised to check updates on their website.
Stena Line also cancelled sailings between Belfast and Cairnryan and Belfast and Liverpool, and all Rathlin Island ferry services were cancelled for the day.
The Bangor to Belfast railway line was blocked by a fallen tree at Seahill overnight, but the line has since reopened.
In Dunmurry on the outskirts of Belfast, Kingsway (the Belfast to Lisburn Road) was closed for a short time overnight due to a fallen tree. It has also reopened.
In Londonderry, the Foyle Bridge has been closed to high-sided vehicles because of strong winds. A 30mph speed limit has been introduced for all other vehicles.
The underground car park at Belfast's Victoria Square shopping centre was closed as a precaution but has since reopened.
Anyone who wishes to report flooding can call a flooding incident line on 0300 2000 100 or the police non-emergency line on 0845600 8000.